PAINTING, colour, printmaking, landscape, environment, process,childhood, subconscious,chance
For the wish that creates the dream always springs from the period of childhood; and it is continually trying to summon childhood back into reality and to correct the present day by measure of childhood (Sigmund Freud).
In March 2020, I returned from an artists' residency in India and began to work on a new series of paintings on canvas. They reflect an investigation of layered space through colour relationships and pattern that result in representations of stilled action. They evoke the vitality of natural environments, underpinned by memories and dreams of my childhood in Borneo. Vivid memories of the bright light, open spaces and jungles combine in my consciousness with spaces and places, textiles, flowers, trees and lichens here in the Eden Valley.
Colour motivates and energises me and I look for it everywhere. The psychological effect of colour on the senses, is central to the way the paintings are envisioned, and many are based on yellows and reds that have an energising and life- affirming effect. Layers of colour are built up to create pictorial space and atmosphere and it is important that the colours retain their vibrancy and capacity to reflect light. Colour is seen as being a language in itself that along with abstract gestural marks can produce an image that provides a corelative for emotions, pointing to meanings without illustrating them.
Process: The practice of yoga is a valuable mental discipline that can influence the way I approach making paintings - it provides a good starting point for the work, uniting the physical and mental and enables me to let go and be brave and spontaneous. This relates to a focus on processes and techniques in painting that reveal the importance of the painter's body and its actions, strength and scale, and places the work in relation to the performative aspect of Jackson Pollock's painting. The paintings are big enough to allow for expansive gestural marks, but not too big so that they can't easily be turned round, placed on the wall or floor, or used as units with other paintings. Their scale reflects human gesture and the length of my arm.
Chance: The technique of wax resist, where marks are made with wax and then painted over with layers of colour, is used as a way to combine intuition and serendipity. Using this spontaneous process where there is a loss of conscious control, the painted mark is inevitably distanced from premeditated objective, thus questioning it as a sign of expression of an inner world or particular emotions. Inscribed, revealed and painted marks, patterns and even motifs are found through a process of uncovering, choosing and rejecting. Marks live as their own characters, the by-product of a combination of head, heart, physical action and chance. This process is a dialogue with the work, and is one of give and take, change and flux. Allowing chance to direct the work in this way is an exciting strategy to allow unexpected juxtapositions of new layers of colours and the appearance of un- planned rhythms and patterns.
Printmaking: Last but not least, printmaking, especially woodcuts and silkscreen prints are an integral part of my process, as a design or thought process as well as an end in itself.
Ultimately, being in the moment: going back to childhood and forward into the unknown all at once, and making paintings where memory, experience and imagination can coalesce.
©Debby Akam 30th June 2021 Instagram@akamdeb
University of Edinbugh, MA FineArt 1981
University of Northumbria MFA 1989
University of Sunderland PhD 2004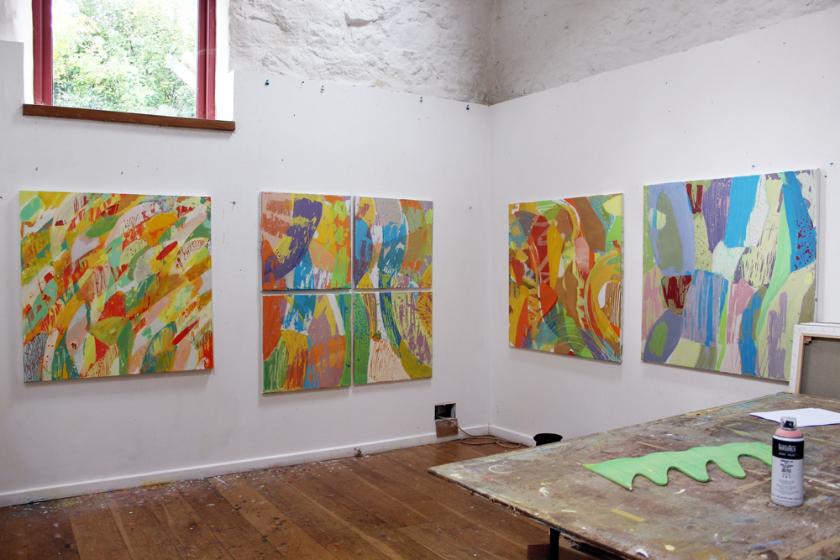 Contact me on Instagram @akamdeb
Upcoming
Printfest 2021
Recent
February 2020 Artist's Residency, Tasara Weaving Centre, Kerala, India
Printfest 2019
'In Print', Platform Gallery, Clitheroe, 2019
'Printmaking', Newcastle Arts Centre, 2019-2020
Education
Edinburgh University 1976-81; Northumbria University 1987-89, MFA; Sunderland University 2004 PhD. She is based in the English Lake District.