PAINTING, PRINTMAKING,colour, abstract expressionism, gestural painting, painting as meditation, sense of time and place, ecology, celebration, mutability, renewal, vernacular
Across the Universe 100cm x 100cm acrylic and pigment on canvas (below) will be on show at the Royal Academy Summer Exhibition from June 13th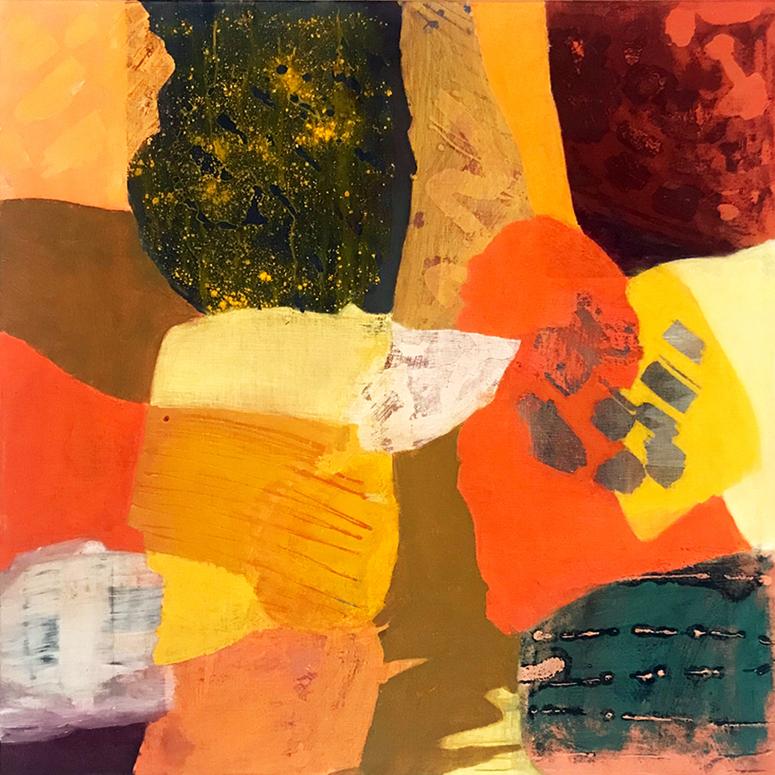 Debby's new paintings are investigations of layered space created through colour relationships and gestural brush marks that result in sensual and tactile representations of stilled- action or vitality. The interplay of colour, line and form creates a shifting pictorial space through which the eye can wander. Her work uses the potential of colour to link personal experience with wider themes of celebration, mutability and renewal. Her immediate surroundings including her garden, the landscape of Cumbria, and working and travelling in India, inform the work. Inspiration also derives from patterns and motifs from woven and printed textiles some of which recall her childhood in Borneo. The process of painting is the catalyst that brings these diverse experiences from past, present and imagined futures together and enables them to come to life in a new form.
Paintings are made in series, and reflect a process -based approach that doesn't anticipate the final result. Semi- random techniques such as wax- resist, printing and frottage (rubbing) are brought into play to encourage an intuitive response to colour and a loosening of intentional control. Debby views each painting as a journey of personal discovery informed by her regular practice of yoga and meditation, connecting her inner self with the wider environment.
2023
Tasara Center for the Arts, Beypore, Kerala artist's residency,1 - 28 February
Northern Print, Stepney Bank, Newcastle upon Tyne One and Another 28 April - 24 June 12 - 4pm
Sockbridge and Tirril Open Studios, Ullswater, Cumbria 20 - 28 May
Royal Academy of Arts Summer Exhibition 13 June - 20 August 2023
Farfield Mill, Sedburgh, Cumbria LA10 5LW July 5 10.30am - October1 4.00pm.Thinking in Colour and Form Part 2: Debby Akam Paintings, Gary Power Tintotem Parade
Views of Open Studios 2023 (below)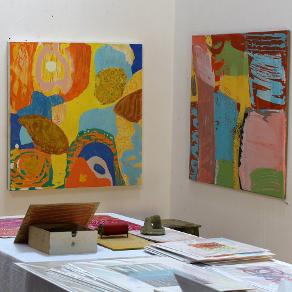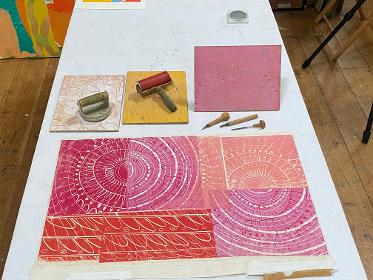 Biomorphia 3, woodcut. (below) Currently in 'One and Another' at Northern Print, Newcastle upon Tyne.