Debby Akam's richly coloured canvases and woodcut prints explore the formation of a personal visual language based on investigations of layered space created through the dynamics of colour relationships and gestural marks. Understated representational cues are sometimes discernable: fragments of buildings, interiors, elements found in natural environments in the English Lake District are juxtaposed with motifs taken from printed textiles, or photographs of a childhood spent in Borneo. The work reflects on some aspects of Abstract Expressionism with its emphasis on paint as a non- verbal language, and the importance of process and improvisation including the use of craft techniques and semi - random processes such as wax- resist, printing and frottage (rubbing).
The artist studied Fine Art at Edinburgh University, before achieving a practice- based PhD Digital Art in the Rural Environment. from The University of Sunderland in 2004. Her prints were included in the International Print Biennale, Newcastle, and in 2020 she undertook a residency at Tasara Centre for textile arts, Beypore, India.
October 2022
colour, abstract expressionism, gestural painting, painting as meditation, sense of time and place, ecology, celebration, mutability, renewal, vernacular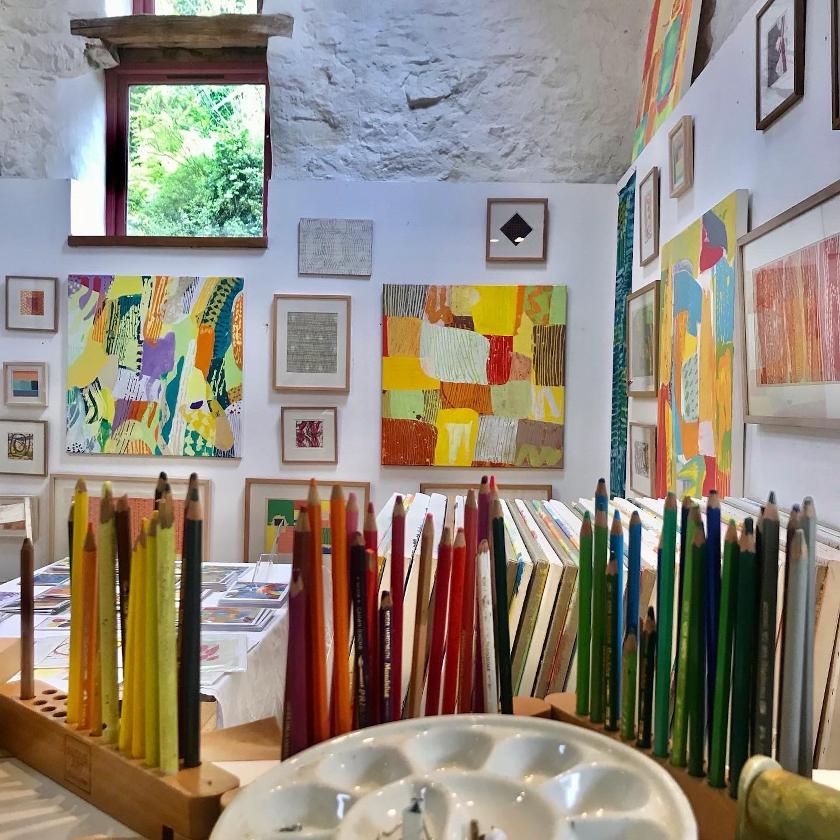 Contact me on Instagram @akamdeb
Upcoming
Thinking in Colour and Form II with Gary Power. The Dover Gallery, Farfield Mill, Sedburgh. 5 July - October 2023
Recent
Thinking in Colour and Form I 2022
Thinking in Colour, Upfront Arts Venue. Solo Exhibition 2022
Painting the Language of Colour. The Old Courthouse Gallery, Shap, Cumbria 2021
February 2020 Artist's Residency, Tasara Weaving Centre, Kerala, India
Printfest 2022
'In Print', Platform Gallery, Clitheroe, 2019
'Printmaking', Newcastle Arts Centre, 2019-2020
Education
Edinburgh University 1976-81; Northumbria University 1987-89, MFA; Sunderland University 2004 PhD. She is based in the English Lake District.